It's all going down at the Fox Tucson Theatre (and HUB for some grub).
This Friday, you could be engaged in a Napoleon Dynamite experience like no other.
If you haven't watched the movie, don't stress — now is your chance. If you're a die-hard fan and have proudly worn the iconic 'Vote for Pedro' tee in the past, all the better.
This Friday, September 6 at 7:30 p.m., a special screening of Napoleon Dynamite will take place at Fox Tucson Theatre in association with Film Fest Tucson. And you stand the chance to win two general admission tickets to view it!
You'll be entertained by the antics of the awkward teen and his life during the screening of the Indie-Comedy set in small-town Preston, Idaho.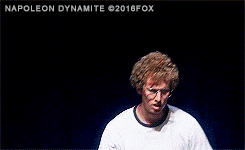 Post-screening, lead cast members Jon Heder (as Napoleon), Efren Ramirez (as Pedro), and Jon Gries (as Uncle Rico) will answer Q&A live on stage.
"Gimme some of your tots."
If you've seen the movie, you know about the tots making an appearance. We're including a $10 gift card to HUB Restaurant & Creamery (which gets you TWO bowls of tater tots) — no sharing required!
SIGN UP IN THE BAR ABOVE TO WIN
Sign up by entering your name and email address in the yellow bar across the top of your screen for a chance to win a pair of tickets to the Napoleon Dynamite screening and $10 gift card to HUB. A winner will be randomly selected from those who sign up.
The winner will be notified on Wednesday, September 4. Please check your email to see if you've won and respond by the end of the day on Wednesday or a new winner will be selected.
Sign up now… or do "Whatever [you] feel like [you] wanna do, gosh!"