It's that time of year when local bars, breweries, and other businesses treat us to a multi-week folk festival that runs from mid and late September to the beginning of October.
Can your lederhosen handle all of the shenanigans?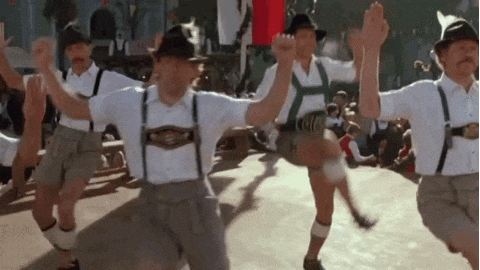 Whether you'd like to visit a specific place for your favorite beer or get a taste of more than one local brewery at the Button Brew House's Oktoberfest, you've got plenty of options. Also, pay attention to the date because some are happening sooner than others.
Ready or not, beer you come.
1912 Brewing Company
2045 N. Forbes Blvd. #105
The brewery is celebrating Oktoberfest at 2 p.m. on Friday, October 1, featuring tasty beers, grub from Daniela's Cooking food truck, and good times.
They'll be pouring their very own Oktoberfest beer, the Metiche Märzen, which is a traditional Märzen, using Hallertau Mittelfrüh hops with notes of malt and a hint of sweetness.
At 7 p.m., they'll be hosting their annual Stein Holding Competition and whoever holds the Stein (with a beer) the longest will win a 1912 Brewing prize.
For more information, follow 1912 Brewing Company on Facebook. 
Button Brew House
6800 N. Camino Martin #160
This is going to be a big and fun Oktoberfest that's got several breweries setting up shop in one parking lot from noon – 5 p.m. on Saturday, October 9.
For $40 per person, you'll land a Button Brew House Oktoberfest 2021 ceramic Stein, along with three half-liter beer fills. For additional pours in the outdoor area, it's $5 each or a dollar off 16-ounce pours if you're drinking inside the taproom.
Also, you can get a dollar off at Button Brew House if you bring in your Stein after the event and until Friday, December 31.
Participating Breweries
1912 Brewing Company
Beer Research Institute
BlackRock Brewers
Bone Haus Brewing
Borderlands Brewing Company
Catalina Brewing Company
Copper Brothel Brewery
Copper Mine Brewing Company
Crooked Tooth Brewing Company
Harbottle Brewing Company
MotoSonora Brewing Company
Old Ellsworth Brewing Company
Pinetop Brewing Company
Ranch Hand Brewing
Simple Machine Brewing Company
Ten55 Brewing Company
Tombstone Brewing Company
More breweries TBA
The food truck Haus of Brats will be parked out in front of the brewery, too, and live music includes Eric Schaffer from noon – 2 p.m., Liz and Pete from 2 – 4 p.m., and Brian Berggoetz from 4 – 6 p.m.
For more information and to get your tickets, visit eventbrite.com.
Catalina Craft Pizza
15930 N. Oracle Rd.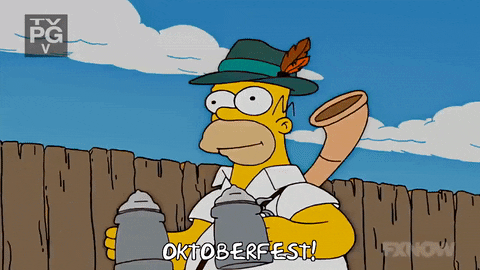 The pizza spot is having a two-day celebration on Friday, September 24 – Saturday, September 25. The event came to fruition to support local businesses, restaurants, and the LOVAR Animal Rescue.
Day One: Friday, September 24 from 5 – 7:30 p.m.
Oktoberfest Networking Happy Hour
$10 online or $15 at the door
Day Two: Saturday, September 25 from 1 – 5 p.m.
Family-Friendly Oktoberfest Vendor Fair
Free admission
Live music, vendors, German food, free photo booth, and free face painting
Centre Stage Dance Studio performs at 2 p.m.
If you'd like admission to both days, it's $25 per person. This includes access to the tent on "Day Two," which features a German dish — two brats, sour croutons, chips, and a German beer or soft drink.
Also, bring along some canned dog food for LOVAR.
For more information, visit Catalina Craft Pizza on Facebook. 
Dillinger Brewing Company
3895 N. Oracle Rd. • 402 E. Ninth St.
There is something brewing on the planner for Dillinger Brewing — at both of their locations, too. Not much information has been announced just yet but the celebration is happening on Saturday, October 2 – Sunday, October 3.
Keep up with the latest by following Dillinger Brewing Company on Facebook. 
Dragoon Brewing Company
1859 W. Grant Rd. #111
Dragoon Brewing is throwing an Oktoberfest event on Saturday, September 25 inside the taproom.
They'll be pouring a special new release beer, selling new merch, having outdoor activities, live music, and local food. Stay tuned for more details.
For more information, follow Dillinger Brewing Company on Facebook. 
MotoSonora Brewing Company
1015 S. Park Ave.
From 11 a.m. – 11 p.m. on Saturday, September 25, MotoSonora Brewing is kickin' off its Oktoberfest celebration. They'll be pouring their Marzen and releasing a Festbier in a one-liter German Stein that you'll be able to take home — empty, of course.
Also, a Bratwurst and some authentic Oktoberfest music are included in the ticket, which is $35 per person and limited to just 200 tickets.
For more information, visit eventbrite.com. 
St. Philips Plaza
4280 N. Campbell Ave.
Proof Artisanal Pizza & Pasta, Reforma, and Union Public House are throwing a big party in the plaza for Oktoberfest at 7 p.m. on Saturday, September 18.
The Bouncing Czechs are performing from 7 – 10 p.m. at the top of every hour with a live DJ mixed in to keep the party, beer, and sausages flowing. Plus, there's going to be a "Best at the Wurst" sausage eating competition on the outdoor stage.
For more information and to register for the eating competition, visit St. Philips Plaza on Facebook.