No cutlery needed.
Sure you can make a sandwich at home, but are you going to bake your own bread or roast your own beef? Or wash and leaf your own lettuce?
Complicated sandwiches are filled with layers of components that require care, but they are oh so worth it. Even if someone else makes the sandwich for you, it's affordable.
Here's our first list of stellar sandwiches in Tucson to put on your radar.
Pilgrim at 4th Avenue Delicatessen
425 N. Fourth Ave.
Don't wait until after Thanksgiving to eat turkey sandwiches. Around this time of year, 4th Ave Deli brings out their Pilgrim sandwich for a limited amount of time. Eat it as much as you can while you can.
Keep up with 4th Avenue Delicatessen on Facebook.
Smoked Beet Sandwich at 5 Points Market & Restaurant
756 S. Stone Ave.
The Smoked Beet Sandwich features a generous pile of sliced smoked beets with local pecan cheese, jalapeño cabbage slaw, and house-made organic ciabatta for a remarkable vegan sandwich.
For more information, call (520) 623-3888 or visit 5pointstucson.com.
Arizona Strong Man at the Bagel Joint
7315 N. Oracle Rd. Ste. 105
For a hefty protein-heavy breakfast, order the Arizona Strong Man. The combination of eggs, bacon, sausage, and cheese on the fresh house-made bagel will keep your belly full for hours.
Keep up with the Bagel Joint on Facebook.
Johnny Cubano at Johnny Gibson's Downtown Market
11 S. Sixth Ave.
The Johnny Cubano features ham, shredded pork shoulder, pickles, roasted jalapeños, spicy dijonnaise, and Swiss cheese. Enjoy it with their sweet potato fries.
For more information, visit gibsonsmarket.com.
Carnitas Torta at Maico Restaurant Mexican Food
835 E. 22nd St.
For some reason, tortas haven't really caught on in Tucson yet. But don't miss out. At Maico, enjoy the Mexican sandwich with crispy, succulent carnitas.
Keep up with Maico on Facebook.
Tailored Tony at Renee's Organic Oven
7065 E. Tanque Verde Rd.
Renee dresses up the sloppy Joe into the Tailored Tony, using local organic San Rafael Valley grass-fed beef, marinara, roasted red peppers, basil, and provolone on their organic focaccia. It's served with your choice of a Tossed or Caesar Salad.
Fun fact — it was one of two dishes Guy Fieri ate when he visited.
For more information, call (520) 886-0484 or visit reneesorganicoven.com.
The Ultimate Roma at Roma Imports
627 S. Vine Ave.
The Ultimate Roma features a blend of capocolla, Genoa salami, mortadella, provolone, giardiniera, roasted red peppers, lettuce, tomato, and balsamic vinaigrette.
But that's not even its final form — Matt's Special features all of the above with the addition of fresh mozzarella and prosciutto.
For more information, visit romaimports.com.
'The Famous' Italian Grinder at Sausage Deli
754 E. Grant Rd.
The Omar gets all the love, but don't miss out on the 'The Famous' Italian Grinder with Genoa salami, pastrami, provolone, lettuce, tomato, bell pepper, onions, pepperoncini peppers, oregano, and Italian dressing.
For more information, visit sausagedeli.com.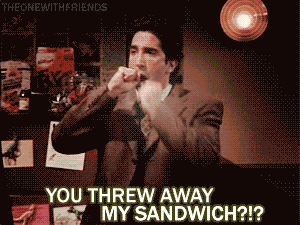 Whatever floats your boat at Sausage Shop Meat Market and Deli
1015 W. Prince Rd. Ste. 141
With house-made sausages and cured meats, it's hard to go wrong with any of the Sausage Shop's dozens of sandwiches. Just choose the one with the most appealing meat for you.
They're also one of the best places to shop for meats to make your own sandwich.
Keep up with Sausage Shop Meat Market and Deli.
Cochinita Pibil Torta at Seis Kitchen
130 S. Avenida del Convento Ste. 100 • 1765 E. River Rd. Ste. 131
Cochinita Pibil — a slow-roasted pork dish marinated in citrus and vibrant red achiote — tops the torta with pickled red onion, cilantro, smashed black beans, avocado, Roma tomato, queso Oaxaca, and Seis-Style chipotle crema.
For more information, visit seiskitchen.com.
Gormogon at Serial Grillers
5737 E. Speedway Blvd. • 1970 W. River Rd. Ste. 100 • 7585 S. Houghton Rd.
While most of Serial Grillers' sandwiches will fit in your mouth reasonably, the Gormogon features a tower made of a double order of ribeye, grilled onions, hot cherry peppers, sweet peppers, bacon, six slices of white American cheese, fries, and onion rings.
For more information, visit serialgrillersaz.com.
Caprese Sandwich at Time Market
444 E. University Blvd.
If you appreciate artisanal crusty bread, Time Market is easily one of the best options. The humble Caprese Sandwich features the outstanding house-baked baguette, arugula pesto, tomato, house-made mozzarella, extra-virgin olive oil, balsamic, and basil.
The Fried Chicken Sandwich features exceptionally juicy chicken breast — order it "Tucson HOT" style for a quarter extra.
For more information, visit timemarket.xyz.
Banh Mi Dac Biet at Vina Vietnamese Street Food
4230 N. Oracle Rd.
Thanks to French colonization in Vietnam, the world now has the gift of the Vietnamese sandwich.
The Banh Mi Dac Biet features chicken pate, steamed red pork, Vietnamese ham, head cheese, cilantro, carrots, daikon, and jalapeños.
Keep up with Vina Vietnamese Street Food on Facebook.