These monstrous, spicy meals aren't for the faint hearted. Do you dare?
For those daredevils out there looking to push the boundaries on all things food, we've found local challenges for you.
From a 5-pound burrito named after a dinosaur to an intimidating dish created by a former navy seal, we dare you to try these hefty plates.
If you can endure the spice level or devour the enormous dish, you'll likely receive a free shirt or get your picture tacked to the wall (and if that's what you're in it for, we won't tell).
Trident Grill
2033 E. Speedway Blvd.
Navy Seal Burger Challenge: Could you scoff this beast in 15 minutes?
The owner, Nelson Miller, and former U.S. Navy Seal aptly named this tough burger challenge at Trident Grill.
Four half-pound beef patties, muenster, jalapeños, bacon, lettuce, tomato, and onion make up this oversized burger. Served with a whopping pound of fries, the meal goes for $25, unless you finish in 15 minutes, then it's on the house.
For more information, visit tridentgrill.com.
Tania's "33" Mexican Food
614 N. Grande Ave.
B. REX Burrito: Could you chow it down in 20 minutes?
The B. REX, weighing in at 5 pounds, is a behemoth of a burrito. Rawr!
With fresh ingredients that pair well, it doesn't compromise on taste. Carne asada, guacamole, pico de gallo, beans, rice, sour cream, cheese, roasted green chile, lettuce, and potatoes are stuffed inside six large house-made tortillas making it "filling enough for a dinosaur."
This $20 burrito is free–if you finish it within 20 minutes.
For more information, visit tanias33.com or call (520) 622-0685.
Lindy's on 4th • 
Lindy's 
Off 4th
500 N. Fourth Ave. • 8995 E. Tanque Verde Rd.
Lindy's has, not one but, TWO burger challenges—the three-pound OMFG Burger, and its spicier companion, the equally large Burnout Burger.
OMFG Burger
If you can inhale three pounds of house-seasoned beef, one pound cheddar and Swiss cheese, lettuce, tomato, onion, and Lindy's Sauce in 20 minutes or less, it's on them.
Just FYI, Michelle Lesco did it in under 4 minutes.
The Burnout
Three pounds of house-seasoned beef layered with pepper jack cheese, green chilis, jalapeños, ghost pepper sauce, and guacamole make up this towering brute. Finish in 30 minutes or less (and keep it down) and the $45 burger is on the house.
For more information, visit lo4th.com.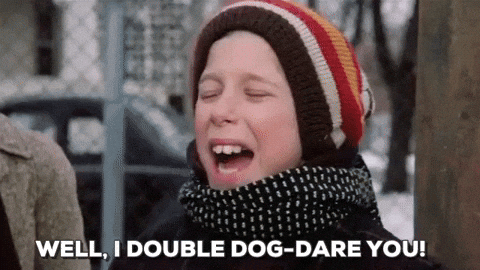 Red Desert BBQ & Catering
918 W. Prince Rd.
BBQ Burrito: Challenge accepted?
This six/seven-pound 23-inch long burrito is "filled with brisket, pulled pork and plenty of fixin's to fill you up."
There's a time to beat: Michelle Lesco demolished it in 12 minutes. Top that and become the reigning champion (and get to the top of the Wall of Fame).
If you're ready and willing (and have trained for this moment most of your adult life), get on down, finish within 20 and show them who's boss (otherwise you're paying $40).
For more information, visit rdbbq.com.
Wings Over Broadway
5004 E. Broadway Blvd.
The Afterburner: Would you send your tastebuds into shock?
It's rumored that you can smell the fiery heat looming from the seasoning when the wings first come out doused in the restaurant's Afterburner sauce.
If you think you can handle the challenge of eating a dozen wings within 10 minutes while not drinking anything, you'll get the $6.99 wings free, your picture hung on the wall of fame AND a Wings Over Broadway T-shirt.
For more information, visit wobtucson.com.
Daniela's Cooking
4400 N. Paseo Del Barranco
Stupid Hot Wings: Do you dare?
Daniela's — the Tucson-based food trailer that you'll often find outside of 1912 Brewing Co. or Caps & Corks — makes wings in a try-if-you-dare-stupid hot sauce.
Four different peppers go into the fiery sauce—including chiltepins and jalapeños.
Daniela makes the wings only on Wednesdays. She said that anyone who can eat all five wings in her specialty sauce usually goes through a couple of beers in the process (and their lips are still on fire).
For more information, visit danielascooking.com.
Brushfire BBQ Co.
2745 N. Campbell Ave. • 7080 E. 22nd St.
Messy Fries: Are you HUNGRY for these?
Brushfire's Messy fries take their seasoned fries loaded with your choice of smoked meat, BBQ sauce, and pile them with cheese.
One taste of their slow-roasted pork belly, smokey brisket, or Brushfire Pork and you'll understand why these ingredients are repeated throughout the menu.
The extra-large "hungry" portion is ideal to share or to try solo if you're feeling famished.
For more information, visit brushfirebbq.com.
Gus Balon's
6027 E. 22nd St.
Cinnamon Roll: Dare to tackle the monster?
Mmmm… Cinnamon rolls. Gus Balon's makes them warm and gooey, frosted with icing, and impossibly giant.
The sweet specialty is house made—much like their pies and other pastries. Make sure you grab one next time you stop by the breakfast place.