Enjoy artistic encounters and outdoor adventures to cultural experiences and some of the best eats in the country.
If you ask any outsider what the desert brings to mind, they're likely to rattle off a list of tropes about cowboys and cacti. While they wouldn't be wrong, per se—Tucson is, in fact, home to just under two million saguaros, according to the last saguaro census (yes, that's a real thing)—the city has a lot more to offer when it comes to unique things to do in Tucson, including food, culture, art, and outdoor activities.
Tucson is currently ranked as the 33rd largest city in the U.S., but don't let the size of this southwestern destination fool you. Thanks to a downtown resurgence, industry growth, and a City of Gastronomy designation, the lively locale is busier than ever with a wealth of local restaurants, bars, shops, and experiences that you won't find anywhere else in the country.
From artistic encounters and outdoor adventures to cultural experiences and, arguably, some of the best eats in the country, we've compiled a list of things to do that are totally unique to Tucson.
See what's going on this winter
Catch a cowboy experience at the Tucson Rodeo
4823 S. Sixth Ave.
https://www.instagram.com/p/B5OELYrJGov/
Ranked as one of the top 25 pro rodeos in the United States, the Tucson Rodeo welcomes renowned cowboys and cowgirls for competitions every February at the Tucson Rodeo Grounds. Held since 1925, this time-honored event is practically a right of passage for Tucsonans — it's so ingrained in the local culture that even schools are closed for Rodeo Week!
Turn the page at Tucson Festival of Books
Held every March at the Univesity of Arizona, the Tucson Festival of Books showcases hundreds of authors and presenters in an effort to improve literacy rates in Southern Arizona. The event typically features programming for children and teens, panels by best-selling and emerging authors, a literary circus, culturally diverse programs, a poetry venue, exhibitor booths, and of course, food.
Rock out at the Tucson Gem & Mineral Show
Every year, the Tucson Gem, Mineral & Fossil Showcase draws major crowds from across the globe with booths that sell a stunning array of wholesale and retail items. Browse the biggest gem show in the U.S. for baubles in every budget, or check out one of the exhibits for a truly dazzling experience.
For more information about locations, shuttles, and nearby food, read our January 2020 article Where to eat at the Tucson Gem Show.
Look for beer fests, pub crawls and wine tastings galore
Throughout the year, you'll find various festivals, markets, and bar crawls dedicated to highlighting our regional wineries and local breweries. Events like the Tucson Craft Beer Crawl and Off the Vine Wine Festival are just the tip of the iceberg when it comes to celebrating the craftsmanship of our winemakers and brewers.
Follow along with Tucson Foodie Events to find out when the next one is happening.
Experience Tucson's unique culture
Tucson is a melting pot of cultures, complete with a rich and storied history with ties to Mexican, Native American, and Spanish heritage. Today, those distinctive influences are evident just about everywhere, from museums and landmarks to interactive experiences.
Explore the magical Valley of the Moon
2544 E. Allen Rd.
Zoned as a historic landmark, Valley of the Moon is a fantastical fantasy park designed by artist and postal clerk George Phar Legler between 1923 and 1932. The park was created to "promote kindness and spark imagination," and later became a nonprofit focused on advocating tolerance and promoting "the power of the mind." Today, Valley of the Moon is open for historical tours, interactive plays, educational workshops, and special events.
Saddle up at Tanque Verde Ranch
14301 E. Speedway Blvd.
Want a truly southwestern experience? Head over to Tanque Verde Ranch, which frequently ranks high on top resort lists from Condé Nast, Travel & Leisure, Trip Advisor, and more. Founded in 1868 and overlooking the foothills of Saguaro National State Park, this vacation destination offers southwestern lodging, horseback riding, jeep adventures, spa services, and countless other outdoor activities.
Learn something fascinating at a local museum
If you want a comprehensive look into Tucson's cultural offerings, we recommend visiting any one of the town's diversified museums. Enjoy desert flora and fauna at the Arizona-Sonora Desert Museum, check out over 20 antique and classic automobiles at the Franklin Auto Museum, visit another era at The Mini Time Machine Museum of Miniatures, uncover more history at the Arizona History Museum, or explore historical art at the Tucson Desert Art Museum.
For a complete list of museum options, visit tucsonmuseums.org.
Explore a Mexican grocery store
902 W. Irvington Rd.
When it comes to cooking cultural dishes, a regular grocery store just won't cut it. That's where Mexican markets, like Cardenas Market, come into play. As one of the leading Hispanic supermarket chains in the U.S., Cardenas offers everything you need to make homemade tamales and tortillas, plus a build-your-own antojitos bar that's too good to pass up. From the large variety of fruits and vegetables to the exotic offerings (like cow lips!) at the carniceria, you'll find everything you need to make a fresh, authentic dish.
Read our 2019 article Build-your-own antojitos isn't the only reason to visit the new Cardenas Market.
Chow down and say "cheers!"
As North America's first recipient of the City of Gastronomy designation, Tucson is home to a vibrant culinary scene that we (obviously) can't get enough of. So without further ado, here are some uniquely delicious food and drink experiences to try in this foodie-focused town.
Taste Mexican Food (and other local offerings) at the Tohono O'odham Swap Meet
A hidden gem exists in a dusty lot west of 1-19 (a mere 15 minutes southwest of downtown Tucson). Open only on Saturdays and Sundays, this delectable oasis—no, not a mirage, we have proof—offers affordable eats you'll return for in weeks to come. Go early, bring cash, and let your nose lead the way as you weave between stalls with meats and vegetables smoking on a mesquite grill. While there are absolutely no frills here, the food will speak for itself—think al pastor cooked on a trompo, birria sopes, costillas, cast-iron fajita plates, and more.
For an extensive guide of where to stop and what to order, read our September 2019 article The Tohono O'odham Swap Meet is Tucson's secret taco heaven.
Make a toast to Tucson with unique, one-of-a-kind cocktails
We can pretty much guarantee that it's always happy hour somewhere in this city, where talented mixologists turn out creative concoctions and elevated classics without missing a beat.
Try the Chambucha for 2 at Charro Del Rey, a delicious kombucha spiked with bubbly rosé, or any of the cocktails crafted with locally-made, award-winning gin at Independent Distillery. El Crisol is another authentically-Tucson spot where you can sip on smoky mezcal and indulge in weekly tastings every Thursday at 7 p.m.
Looking for something that's truly over-the-top? Highwire Lounge offers gastronomic cocktails adorned and/or crafted with unexpected ingredients like pearl bubbles, cotton candy, Mexican candy, and even Pop Rocks.
For more ideas on where to go, read our article Ditch the Jack & Coke. Try a craft cocktail at these 20 Tucson bars & restaurants.
Channel your inner Food Network star with cooking classes at Urban Grove
550 W. Orange Grove Rd.
Want to learn how to create a restaurant-grade meal in the comfort of your own home? The Urban Grove does just that, hosting and collaborating with local and visiting chefs to teach a variety of cooking classes. With indoor and outdoor dining areas, The Urban Grove can also host catered events for up to 120 guests.
Plan an urban picnic
What's an urban picnic, you say? This modern take on picnicking involves dining outdoors, a la carte, in one of Tucson's many plazas, parks, or downtown courtyards. No checkered blankets or wicker baskets need be involved—you'll just want to grab some tasty food (either from home or your favorite to-go resto) and to find a comfy seat. Not sure where to start? Check out this list that includes nine of our favorite spots to have an urban picnic.
Ride the Sun Link, Tucson's Street Car
There's no better way to bar hop around town than by jumping on the Sun Link, Tucson's iconic streetcar that connects you to five of the city's districts in a 3.9-mile route. Spend all day visiting the bars, shops, and restaurants at Mercado San Agustin, Downtown, Fourth Avenue, Main Gate Square and the University of Arizona — all for just $4.50. Purchase tickets online, on the mobile app, or in-person at the Sun Link ticket vending machines.
Read our February 2020 article Guide to 9 stops along the Sun Link for exceptional food & drink (MAP).
Satisfy your caffeine craving at these specialty coffee roasters
Can't start your day without a hot cup o' joe? Luckily, it's easy to find quality coffee in Tucson, thanks to the city's plethora of cafés and roasters scattered all over town.
From classic brews to local favorites like horchata lattes, a seasonal Molé Latte at Presta Coffee Roasters, and the Chiltepin Cold Brew at Exo Roast Co., you're bound to find a caffeine fix that suits your tastes. Visit this list to see which shops we're frothing over.
And if you're desperate for more, read our February 2020 article Ultimate Tucson Visitor's Guide to Food & Drink.
Stay active outside (and in)
Tucson's clear skies and sunshine are the best motivators when it comes to getting a workout in. From hiking and biking to yoga and even skiing, you'll find countless ways to get active and actually enjoy breaking a sweat.
Ready, set, hike
When it comes to hiking around Tucson, there is a seemingly endless array of parks, trails, mountains, washes, and canyons that range from "easy-peasy" to "wow, what was I thinking?" Whether you want to scale Mt. Lemmon or you'd rather stick to the paved path that winds into Sabino Canyon, one thing's for certain: You won't want to forget sunscreen or a water bottle. We'd recommend checking out one or more of these hikes (complete with nearby eats) for an unforgettable outdoor experience.
Take a yoga class with famous yogi Darren Rhodes
245 E. Congress St. • 2631 N. Campbell Ave. • 7858 E. Wrightstown Rd.
It's not easy to stay zen when you're stuck in Tucson's never-ending traffic, so why not find your center at Yoga Oasis with Darren Rhodes? Named one of Yoga Journal's "21 Talented Young Teachers Shaping the Future of Yoga," Rhodes is the creator of Yoga Hour®—a 60-minute class focused on fun flows paired with alignment instruction that also happens to be affordably priced at just $5 cash or $6 card.
Take a ride on the wild side at Fantasy Island Mountain Bike Park
9500 E. Irvington Rd.
Put the pedal to the metal at this adventurous course, complete with multiple loops and trails for all skill levels. Start with the main loop, known as Lone Cactus, and head down any of the side loops to ride as many (or as few) miles as you want. One thing to note: Fantasy Island is considered State Trust Land, so be sure to gear up with a proper permit.
Fly through the air at Arizona Zipline Adventures
35406 S. Mt. Lemmon Rd.
If you're on the hunt for a little adrenaline rush, head up to Oracle's premier zipline course for the day. Guests can zipline on five different lines strung 80 feet high in the air over the magnificent high desert. Once you've worked up an appetite, round out your day by heading over to the onsite Peppersauce Kitchen for some award-winning tacos and salsa.
Read our November 2019 article Zipline & dine: Arizona Zipline Tours' Peppersauce Kitchen cooks homemade goodness.
Hit the slopes at Mt. Lemmon's ski resort
10300 E. Ski Run Rd.
Believe it or not, you can ski and snowboard (albeit for a short window) during Tucson's winter months at Ski Valley. Located on Mt. Lemmon, this larger-than-it-looks resort features multiple slopes that range from green to black. Rentals are available, as well as lessons for kids and beginners.
Missed out on the snow-covered experience? The ski lifts remain open in summer so you can still ride up the mountain and take in the gorgeous views.
Read our May 2019 article Guide to Mt. Lemmon: Day Trip Eats & Drinks for the Family.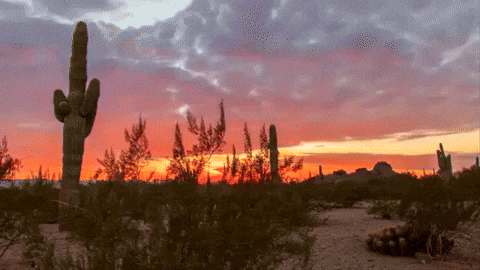 Spark your creativity
For centuries, the desert's picturesque sunsets, prickly plant life, and mountainous skylines have inspired creators of all kinds. Like the writers, painters, sculptors, and designers who've come before, you too can harness Tucson's inspiration and enjoy the art that this city inspires. Here are a few ways to take in the masterpieces—and maybe even create a few of your own.
Capture a moment in front of one of Tucson's iconic murals
There's no shortage of colorful street art scattered around Tucson. Discover beloved works from local artists like Joe Pagac and Danny Martin, whose iconic murals adorn building facades and popular restaurants all over town, as well as internationally renowned artists like Fin Dac, whose work appears on the historic Hotel Lewis. Snap a picture as a memento and marvel in time to come.
Read our October 2019 article Meet the face behind countless iconic Tucson murals: Modern Aquarian.
Get a permanent souvenir at an award-winning tattoo shop
Make your trip to Tucson truly unforgettable with a memento that will last, well, forever. The city is home to talented artists like Anthony Michaels, who is known for his stunning portrait work and for winning the title on season seven of the reality competition show, Ink Master. Find him at Twenty Five Twelve Collective located at 2512 N. Campbell Ave.
Other notable tattoo shops include Istari at 245 E. Congress St. and Black Rose Tattooers at 47 S. Sixth Ave. and 421 N. Fourth Ave.
Take a workshop at Creative Kind
2905 E Skyline Dr.
Get in touch with your crafty side by signing up for a workshop at Creative Kind. Tucked away in the La Encantada shopping plaza, this locally-owned shop offers guided projects (think macramé, embroidery, wreath-making, calligraphy, and more) and open craft nights in addition to selling paper goods, art, accessories, and other giftable goodies from local and independent brands.
Turn your brown thumb green with a terrarium planting class
When it comes to desert greenery, succulents and cacti are home decor staples. Learn how to work them into a beautiful composition (and also how to keep them alive!) by taking a terrarium planting class at any number of nurseries in town. Class offerings can be found at Green Things, Tucson Botanical Gardens, and occasionally at Creative Kind, just to name a few.
Looking for more things to do in Tucson? Check out this list of 30 can't-miss things to do, see, and experience.