Plug in, grab a bite, and kick back at these work-ready restaurants, cafes, and coffee shops.
Let's face it, being chained to your dorm-room desk or staring at the walls of your cramped home office isn't always conducive to productivity.
Sometimes a change of scenery, a relaxing atmosphere, and a list of places with free Wi-Fi can be just what you need to reset and refocus on the task at hand.
In today's tech-driven world, you'd be hard-pressed to find a restaurant or coffee shop without internet access. But sometimes, you need more than just a good connection to get to work. Comfortable seating goes a long way and the importance of both a quiet ambiance and caffeinated menu items should not be underestimated.
Whether you're a college student in search of a comfortable place to study or a work-from-home freelancer that needs to get out of the house, one thing's for certain: you won't want to miss these destinations.
From cafes and coffee shops to work-friendly restaurants, here are our top places with free Wi-Fi in Tucson.
Scented Leaf Tea House & Lounge
943 E. University Blvd. • 308 E. Congress St.
With two locations, busy worker bees have double the bandwidth at the Scented Leaf — a popular destination for tea and study time.
The open concept and welcoming atmosphere are primed for group projects and solo sessions alike. Choose from hot or cold tea served loose-leaf or on tap and customize your drink with options to add sugar, milk, or lemon.
For more information, visit thescentedleaf.com.
HeeMee Coffee + Bakery
20 E. Congress St., Ste. 110
New to the Tucson food scene, this Korean bakery and cafe offers a cute cafe setting in the downtown area.
Head over with your laptop, peruse the bakery display, and settle down — it's one of the sweetest places with free WI-Fi on the list.
For more information, visit heemeebakery.com or keep up with HeeMee Coffee + Bakery on Instagram.
Caffe Luce
943 E. University Blvd. Ste. 191 • 4205 N. Campbell Ave. Ste. 125 • 245 E. Congress St.
Fuel your think tank while you connect to the Wi-Fi at your choice of three Caffe Luce locations.
This roastery serves coffee, tea, and a variety of sandwiches and bakery items, so you won't go hungry while you're working hard.
Sip on the cold brews or their house coffee (made from their own beans) and enjoy it with a fresh-pressed panini.
Keep up with Caffe Luce on Instagram.
Exo Roast Co.
403 N. Sixth Ave.
Want a hip place to do homework? Exo Roast Co. is it.
Located in the downtown Tucson area, this coffee roastery boasts a cool industrial vibe and serves specialty coffee drinks with a local twist—think mole lattes and chiltepin pepper cold brews.
Long wooden tables flanked by metal chairs make for a spacious laptop setup. If you stop by for an afternoon study session, stick around for the evening events—Exo frequently has live music throughout the week and mezcal tastings every Thursday from 7 – 8 p.m.
For more information, visit exocoffee.com.
Goodness Fresh Food & Juice Bar
2502 N. Campbell Ave.
If you're in the habit of working through lunch, consider stopping by this health food-focused restaurant located in the heart of the Campbell Food District.
Goodness Fresh Food & Juice Bar offers an array of nourishing foods that include açaí bowls, salads, sandwiches, fresh juices, and smoothies.
Popular menu items include the Cacao Warrior Açaí Bowl and The Hulk Smoothie. Choose from indoor seating or an outdoor patio to set up your workstation and connect to the free Wi-Fi.
For more information, visit fukushuconcepts.com/goodness/central-tucson.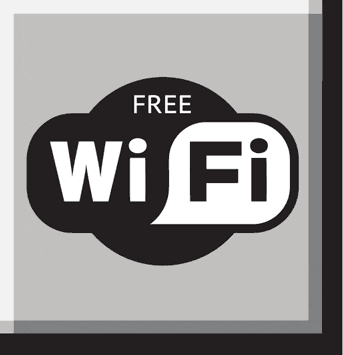 Presta Coffee Roasters
2502 N. First Ave., Ste. 100 • 100 S. Avenida del Convento, Ste. 180
Step through the doors of this coffee shop's First Avenue location and you'll find plenty of couch seating, tables, and bar tops to set up your space for solo studying. If group projects are on your radar, opt for their second location at Mercado San Agustin, which offers an open environment and social setting.
Whichever Presta location you visit, expect to enjoy fresh-roasted coffee and espresso in the form of artfully crafted cold brews, cappuccinos, and lattes.
For more information, visit prestacoffee.com.
Raging Sage Coffee Roasters
2458 N. Campbell Ave.
This family-owned and operated coffee shop strives for a warm and welcoming feel, so getting "in the zone" while you connect to the Wi-Fi won't be a problem here. The cozy locale has plenty of indoor seating, but the tree-shaded patio also makes for a suitable workspace.
Many locals come to Raging Sage just for the scones, which are baked fresh daily and come in both savory and sweet varieties. If you need a jolt of caffeine to kickstart your workflow, try the Oaxacan Mocha, a Mexican espresso drink subtly spiced with cayenne.
For more information, visit ragingsage.com.
Café Passé
415 N. Fourth Ave.
If you're really craving a change of scenery, visit the outdoor patio at Café Passé.
Wooden tables and touches of greenery add a peaceful, faraway feel to this Fourth Avenue haven. Don't be surprised if you find other like-minded folks working away on computers or reading books in this tranquil setting.
The cold brew and breakfast sandwiches come highly recommended, most notably the Bagel De Lox. Passé's scones are also highly coveted and come in a variety of unique flavors like Rosemary and Vidalia Onion, Basil and Black Pepper, and Cranberry and White Chocolate.
Keep up with Café Passé on Facebook.
Cartel Coffee Lab
2516 N. Campbell Ave. • 210 E. Broadway Blvd.
Cartel Coffee Lab is a fresh, local alternative to your typical coffee shop chain. Originally founded in Tempe, this roastery now boasts locations in Phoenix, Scottsdale, and Palm Springs, as well as two storefronts in Tucson.
Despite its growth, Cartel still offers a relaxed atmosphere (complete with Wi-Fi) that's perfect for plugging in and getting down to business. Try the cortados and the cold brew, both popular pick-me-ups for the coffee crowd.
For more information, visit cartelcoffeelab.com.
Black Crown Coffee Co.
4024 E. Speedway Blvd.
If you like to think (and work) outside the box, then this artsy, unconventional coffee spot will get your creative juices flowing.
The eclectic interior, complete with spiral staircase, complements a specialty menu that includes drinks with names like Turbo Coke, Black Widow, and Breast Milk.
Don't let their whimsical aesthetic fool you, though—Black Crown means business, roasting a whopping 70 pounds of coffee every two days. Their pastry case doesn't mess around either. Nosh on a muffin or danish when you need a hit of sugar to get you through those spreadsheets.
Keep up with Black Crown Coffee Co. on Facebook.
TEAholic
1031 N. Park Ave.
Tea lovers looking to get online will love the selection of boba teas made with unrefined black sugar from Okinawa, Japan—not to mention the soothingly chic and Instagrammable decor.
Choose from comfy seating options, like the dusty lilac couch and plush chairs, or set up your laptop at any of the spacious tables accented with vases of fresh floral arrangements.
Conveniently located right by the University of Arizona campus, this spot is one of the top places with free Wi-Fi for many students. Need a few cups of tea to get you through that project? During happy hour, refills are half off from 6 – 8 p.m.
For more information, visit teaholic.business.site.
Fonda La Hermanita
198 W. Cushing St.
If you're looking for a peaceful retreat (and quiet workspace) from Wednesday to Sunday, you've found it. The Mexican cafe, on the same property as The Coronet, has a spacious patio that happens to be work (and pet) friendly.
The simple menu offers a variety of beverages — including espresso drinks, coffee, aguas frescas, iced tea, and alcoholic beverages — and bites — salads and platos — to sustain you.
For more information, visit lahermanita.com.
Le Buzz
9121 E. Tanque Verde Rd. Ste. 125
A beloved destination among Mt. Lemmon's hikers and bikers, Le Buzz serves a plethora of tasty breakfast and lunch options on the northeast side of town. While the European-style patisserie might be slammed on Saturdays and Sundays, it's the perfect little Wi-Fi-ready hideaway during the week.
Post up at any of the indoor tables or head out to the dog-friendly patio to enjoy the cafe's popular quiches and tartines. Coffee roasted in-house will re-energize your work ethic.
For more information, visit lebuzzcafe.com.
Crave Coffee Bar
4530 E. Broadway Blvd.
Free Wi-Fi and freshly roasted fair trade coffees await at this midtown coffee destination.
An ample selection of lattes and frappes will help keep you focused. If you need something a little stronger than coffee, Crave recently began serving craft beer and wine. It's the perfect excuse to "write drunk, edit sober," as the popular saying goes.
For more information, visit cravecoffeebar.com.
Ren Coffeehouse
4300 N. Campbell Ave.
This modern coffee shop is tucked away in St. Philip's Plaza and focuses on serving "clean and healthy" options made with organic ingredients.
A selection of energizing drinks, like the Ginger Spritzer or the Fat Americano, and wholesome food options will get your mind in gear. The interior is also conducive to working, with plenty of tables and a few comfy armchairs.
Keep up with Ren Coffee House on Facebook.
American Eat Company
1439 S. Fourth Ave.
Not sure what you're in the mood for while you're working?
American Eat Company boasts ten local concepts under one roof. Choose from pizza, burgers, gyros, ribs, poke bowls, and tacos. The Wi-Fi-equipped food hall also includes a beer and wine bar, coffee, ice cream, and butcher shop.
For more information, visit americaneatco.com.
Brewd
4960 N. Sabino Canyon Rd.
Plug in at this eclectic coffee lounge that serves breakfast, sandwiches, blended drinks, espresso, tea, and lattes.
Whether you sit inside or out, you'll be treated to the beautiful desert views of northeast Tucson. And if you need a study break, Sabino Canyon is just down the road!
For more information, visit brewd.us.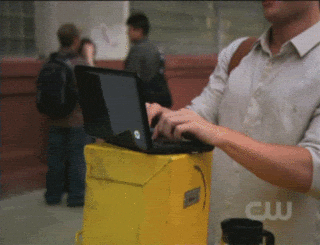 Big Heart Coffee
4802 E. 22nd St.
Feel good and do good while you kick back at this community-driven, philanthropic coffee house. Big Heart supports many local charities, including Janie's Fund, Community Food Bank of Southern Arizona and SAAF, St. Francis Homeless Shelter, and Codys Friends Charity.
Another thing to feel good about here? The menu!
Coffee beans from Uganda, Colombia, and Ethiopia are roasted in-house and brewed in a variety of ways including the pour over, half press, full press, and Aeropress.
For those with a sweet tooth, try the shop's signature Big Heart Shake, which features espresso and ice cream blended with your choice of flavoring.
For more information, visit bigheartcoffee.com.
Coffee X Change
6841 E. Camino Principal • 8501 E. Broadway Blvd.
This coffee shop is no stranger to the studying crowd—in fact, it was founded by a University of Arizona graduate and is now operated by two generations of U of A alumni. You'll frequently find many people working on laptops or reading on the patio at the expanded Camino Principal location.
Using fair-trade coffee beans that are roasted daily, Coffee X Change offers a variety of coffee and espresso options. Their specialty, however, is a signature ice-blended drink called the Java X Treme that come in fun flavors like Almond Joy, Green Tea, and Churro.
For more information, visit coffee-x-change.com.
Crossroads Coffee Company
8898 E. Tanque Verde Rd.
The northside coffee shop, a favorite in the community, welcomes you in with friendly service and ample seating. Kickstart your workday with a mug of coffee brewed from Fair Trade organic beans or a caffeine-free lemonade, Italian soda, fruit smoothie or tea. If you're needing a bite, get yourself a freshly made breakfast scone, baked treat, salad, sandwich or wrap to munch on while you work.
And once you're done with the grind, there's always the temptation to head up the mountain or hike Sabino Canyon.
Keep up with Crossroads Coffee Company on Facebook or visit jamhill63.wixsite.com/crossroadscoffeeco.
Roadrunner Coffee
9665 N. Thornydale Rd.
If you live near Oro Valley or happen to be on the north side of town, stop by Roadrunner Coffee for a cup o' joe and a quick bite. Established in 2008, this coffee shop serves specialty espresso drinks, energy drinks, cold brew coffee, teas, breakfast sandwiches, and burritos.
Try the Jittery Javelina, flavored with caramel and vanilla, or the Bulletproof Coffee for an extra boost. There's also a drive-thru window for those times when you need a study snack to go.
For more information, visit roadrunnercoffeeco.com.
Have a favorite work or study spot? Let us know in the comments.
[This article was originally written on April 16, 2019, and was most recently updated on October 16, 2019.]