Rainy weather calls for noodles & steaming broth.
Pho is not your "foe." It's pronounced "fuh?" and that questioning inflection is necessary if you want to pronounce it accurately.
It's your best friend after a heavy night of drinking, during flu season or any day really. It's like a Vietnamese menudo in soul. The gelatin-rich beef stock comforts your body, while the rice noodles are soft and easy to slurp.
Slurping isn't encouraged per se, but the act of slurping uses air to help cool down the noodles and broth as you devour it.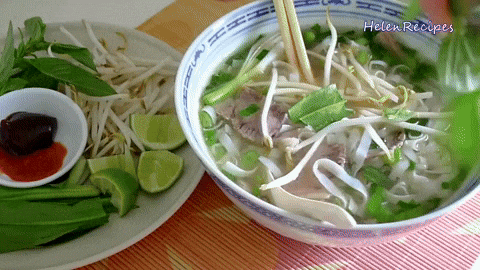 Pho is greater than the sum of its parts. The broth consists of a wide variety of aromatics, such as charred ginger, onion, clove, cinnamon, star anise, and more depending on the region.
Bean sprouts, onion, cilantro, Thai basil, and other garnishes are brought to the table so diners can season their own bowls according to personal preference. If you add hoisin sauce or Sriracha to your bowl, make sure to at least taste the broth on its own first. A final squeeze of lime helps brighten the flavors.
For the simplest experience, order pho tai, which features thin slices of beef. For the works, order pho dac biet, which usually includes steak, fatty flank, tendon, tripe, and meatballs. Chicken and vegetarian options are also available at some restaurants.
American Flying Buffalo
Food Truck
This food truck offers American classics like burgers and wings, but ventures into Asian territory with fried rice and pho. The broth is an old family recipe made from scratch. To be environmentally friendly, bring your own bowl.
Keep up with American Flying Buffalo on Facebook.
Com Tam Thuan Kieu
1990 W. Orange Grove Rd.
https://www.instagram.com/p/BrwQZsanrSa/?utm_source=ig_embed
With many people having trouble pronouncing "pho" already, it's usually easier to refer to this place as "the Vietnamese restaurant attached to the Lee Lee Oriental Supermarket."
If you're adventurous, the deep menu also features authentic specialties such as Banh Canh Gio Heo, which is a pork knuckle soup with thick noodles made from rice and tapioca.
Please note that the restaurant is closed on Tuesdays.
For more information, visit Com Tam Thuan Kieu on Yelp.
Dao's Tai Pan's Restaurant
446 N. Wilmot Rd. • 4206 N. First Ave.
Go for the Pho Dac Biet, which is a large bowl of pho with rare steak (cooked with the broth), well-done steak, flank, tendon, and tripe. The east location is conveniently close to St. Joseph's Hospital, making it a favorite for patients and doctors who want flavor instead of cafeteria food.
Keep up with Dao's Tai Pan's Restaurant on Facebook.
Fresh Sushi Pho
7159 E. Broadway Blvd.
The lunch combo features a bowl of Pho Tai, a soda, and your choice of a California roll or Las Vegas roll. For another unconventional choice, order the Seafood Pho featuring shrimp, scallops, mussels, and salmon.
For more information, visit freshsushiphotucson.com.
Ha Long Bay
7245 E. Tanque Verde Rd.
The northeast proximity makes Ha Long Bay an interesting choice after a weekend hike at Sabino Canyon or Mount Lemmon.
The service is also exceptionally friendly, making it a favorite joint in the neighborhood.
For a hybrid of two Vietnamese classics, order the Hue Spicy Beef Soup (Bun Bo Hue), which features pho noodles in a spicy Bo Hue broth perfumed with lemongrass.
For more information, visit halongbaymenu.com.
King's Restaurant
10 W. Grant Rd.
Tucked inside what looks like another Chinese restaurant, King's actually offers notable pho and other Vietnamese noodle soups. The Hu Tiu Dac Biet is also worth a trip with clear noodles, shrimp, calamari, and pork.
For more information, visit kingstucson.com.
Miss Saigon
1072 N. Campbell Ave. • 47 N. Sixth Ave. • 250 S. Craycroft Rd.
The most prominent family of Vietnamese restaurants in Tucson, Miss Saigon has three locations spread around Tucson. Their spring rolls and boba are local favorites.
For more information, visit misssaigon-tucson.com.
Nhu Lan Vietnamese Food
Food Truck • 238 N. Fourth Ave.
While the banh mi is popular, don't neglect this truck's pho. The truck has a vibrant orange paint job, so keep an eye out for it at spots such as Crooked Tooth Brewing Co. and Arizona Beer House. If you're looking for a more permanent location, head to The Boxyard on Fourth Avenue.
Keep up with Nhu Lan Vietnamese Food Truck on Facebook for updates on their lunch and dinner locations.
Pho #1
2226 N. Stone Ave.
Hidden outside of view on Stone, Pho #1 is a step up from the previous tenant Pho Thu; they're worth a return visit if you haven't been there in a few years. For a gem that's hard to find in Tucson, try #53, the Com Ga Chien, which is Vietnamese marinated fried chicken served with rice.
Keep up with Pho #1 on Facebook.
Saigon Pho
943 E. University Blvd.
Located at Main Gate Square, Saigon Pho is a convenient choice for students. The bowl is presented with a lid, so you get a lovely waft of pho aromatics once you lift it. The restaurant also offers an expansive vegetarian/vegan menu. Lastly, the assorted and affordable Banh Mi sandwiches are a convenient on-the-go lunch.
Keep up with Saigon Pho on Facebook.
Vina Vietnamese Street Food
4230 N. Oracle Rd.
Hidden near a Home Depot, Vina focuses on street food. Their house Vina Pho features beef tenderloin, brisket, and meatballs. Their Pad Thai isn't the most Thai interpretation, but it's still one of their best sellers.
Keep up with Vina Vietnamese Street Food on Facebook.
Wok Fire & Grill
1135 N. Park Ave.
Wok Fire & Grill has a fast-casual style reminiscent of Chipotle. Customize your bowl with your choice of noodles and protein(s). Located near the Eller College of Management, parking can be a pain — order delivery if you're not within walking distance.
For more information, visit wokfire.com.
Where's your favorite spot for pho in Tucson? Let us know in the comments.
[This article was originally written on February 11, 2019, and was most recently updated on October 29, 2019.]