Bites ranged from South Tucson tacos to Middle Eastern kebabs.
Although we're always working hard to bring you the latest in food news, we also have meals outside of what you read about or see on Instagram.
With that in mind, here are our picks for the best things we tasted this month. For more information on each restaurant, click on the restaurant name.
Adam Lehrman, Founder
Carne Asada Torta at Taqueria Rosita — "Just a well executed Mexican sandwich."
Lengua Taco at Taqueria El Rapido — "All of the tacos here were excellent. But the lingua was exceptional."
Chicharones con Chile Colorado Burro at Los Jarritos — "This was the first spot I hit for my ongoing exploration of the south side."
Jennifer Teufel Schoenberger, Catalyst
Carrot Veloute at Maynards Market & Kitchen — "Started up this month with a delicious carrot soup at Maynards Market, which they call the Carrot Veloute. Velvety smooth and rich in carroty sweetness, this was the perfect spring lunch. They topped the cream-based soup with yogurt and grown-in-their-garden thyme. But what put it over the top for me was their lime-infused oil and crunchy cumin croutons. Mmmmm-mmmm good. Lunch for $7!"
Adobado Taco at Taqueria el Rapido — "Adam has been scouring the southside for nom-noms we need to be reminded of or know about. One of the things that I'm still thinking about it, is the Adobado taco at Taqueria el Rapido. Everything at this little truck made me happy (the lengua, the cabaza, the chicharron) but the adobado was full of flavor and perfectly cooked. The salsa bar was good and fresh. Service was great. Everything a taco needs. Also, shout out to the fun people we got to share a table with. They recognized Adam as 'Tucson Foodie' and treated him as the minor deity he is."
Hamachi by Janos Wilder of DOWNTOWN Kitchen + Cocktails – "Janos Wilder, DOWNTOWN Kitchen + Cocktails, dropped by Tucson Foodie HQ to share something off this month's menu (lucky us). His hamachi was impeccable. The fish was fresh and flash seared — flavorful without overwhelming the clean taste of the fish. His sauce, used sparingly, was the perfect cream to the radish's crunch. The surprise of that bite was the candied jalapeno, which I expected to hate but it was exactly what was needed. Janos is an amazing chef and always delivers delicious food. It's that time of year when we year-rounders can easily get into these restaurants that get so crowded at certain times of the year. Matt Sterner did a great article on this month's menu, take a look at it and get in there."
Spanish Lesson at Charro Vida — "Straight up my best surprise of the month: a gift to my tastebuds from Gary Hickey at Charro Vida. Go immediately to Charro Vida and order the Spanish Lesson with anchovies. The perfection of the Spanish granja frijoles will make your life better. Lima beans bathed in warm oil. More please."
Detective Pikachu ice cream at RoadHouse Cinemas — "These are the months (well, if I'm honest all 12 of them are) when my ice cream cravings kick into overdrive. Recently, Dominique Stoller from HUB came up with my new favorite: Detective Pikachu. This baby is only available at RoadHouse Cinemas (while it lasts). She is developing specials to match the films. What a fun idea! Anyway, loved this citrus-fruity lightness which was still creamy with the crunch of dark chocolate. Heck Yah! Welcome to summer."
Kate Severino, Editor 
Caribeño cocktail at Westbound — New to the menu, the Caribeño is all you want in a summer cocktail. It's light, refreshing, and not too sweet. The Citadelle Gin is complemented, elevated even, by the Plantation Stiggin's Fancy Pineapple Rum. Oh yes, we're fancy all right. Add coconut water, a squeeze of lime, and slivers of freeze-dried strawbs to garnish and *poof* transported to an island paradise with your first sip.
Banh Mi Dac Biet at Nhu Lan Vietnamese Food — On my last AZ Beer House visit, Nhu Lan Vietnamese Food 'on wheels' was there, parked and serving customers. After watching an episode (many episodes) of Street Food on Netflix, I wanted (needed) Southeast Asian cuisine in my life and was lured towards this French-inspired Vietnamese sandwich. I was sold on the baguette — anything that's soft and fresh inside with a crispy exterior has my vote. The crunchy raw veg and deli meats were a bonus.
Buffalo Shrimp at Wings on Fire — Newly opened on my side of town, the east side (the southeast side), Wings on Fire is serving up something unusual: plump, breaded shrimp. I'd go 'sauce on the side' with these to keep that crunch and then straight up barbecue to dip.
Malasada at Island Plate Lunch — They've opened in a new location (and the crowd goes wild). So, naturally, we sampled treats from the Hawaiian and Asian bakery. Treat of choice: the humble Malasada. If you aren't a 'doughnut person' and can't handle the glaze, these are your best bet. This Hawaiian doughnut is essentially elevated fry bread (with sugar), but you need one fresh, warm, and all to yourself.
Melissa Stihl, Content Creator
Shrimp Taco at The Quesadillas — "I love shrimp tacos but I am particular about them. I grew up in Southern California and fried shrimp wasn't a thing. It was all grilled or seared shrimp when it came to tacos, maybe with a squeeze of lime. Because of my Cali roots, I hate (like really hate) fried shrimp tacos. Luckily, there are a few places in town that do a shrimp taco right. One of my recent discoveries is the shrimp taco at The Quesadillas — filled with perfectly cooked shrimp, a crema, and a bit of cabbage. Top it with their pineapple chiltepin salsa and a little hot sauce and it's heavenly."
Squash Crostini at Monsoon Chocolate — "Monsoon Chocolate put out an epic spread for their Anniversary party this month. The Squash Crostini was my version of a perfect bite. It was creamy; salty from cheese; had a zippy, spicy pesto sauce; and a sweetness from pomegranate arils. Nothing else to say… I had like ten of them and they were perfect."
Sangiovese Rosé at Sand-Reckoner — "Sand-Reckoner just released a new Rosé made with Sangiovese grapes. The Rosé is the second in their lineup and is much darker than their previous rosé offerings. It's a dry rosé, even though its dark hue leads you to believe it might be sweet. It tastes like a 78-degree summer breeze atop Mt. Lemon while you nosh on ripe strawberries in your hammock. Fruity, woodsy and complex, clean finish."
Jackie Tran, Lead Writer & Photographer
Lamb Afrique at Just Kabab — "I've grown fond of restaurants with 'obvious' names. The Quesadillas and Noodleholics have grown into my two favorite restaurants. Just Kabab might join that fray soon with their tender Lamb Afrique skewers. The meat is spicy with both piquancy and a complex seasoning blend. I'm jealous of Oro Valley for this one; I've been craving this bite almost daily since I had it."
Milk-Braised Chicken at the Coronet — "This tender airline breast features a delightful dill Dijon cream, crispy prosciutto, Barrio Bread crumbs, and pickled grapes on a bed of Roman mashed potatoes. It reminds me of the chicken dijonnaise from the cafeteria in college, but elegant. The pickled grapes add an unusual but welcome pop of acidity."
Mapo Tofu at Chef Wang Chinese Restaurant — "All the dishes I've had from this new restaurant have surpassed my expectations. Come with seven friends so you can sit at the table with a lazy Suzan and share at least ten dishes. Though I can't pinpoint a favorite dish of the bunch, I can say the Mapo Tofu surprised me the most. While the peas and carrots aren't exactly traditional, the rest of the dish provided deep umami and a balanced spicy-numbing tingle that surpassed any other rendition of this dish I've had in town. Just eat it over white rice and it's Chinese comfort-food heaven. (And eat it with a fork instead of chopsticks.)"
La Frida at Ensenada Street Food — "It's a shame this food truck doesn't open until the evening because their cheesy delights would be perfect for hangovers. La Frida featured succulent chile-rich birria between two freshly made corn tortillas with more birria on top, melty mozzarella, cilantro, and diced onion. Think of it as a street enchilada."
Chipotle Yuzu Salmon Poke Lunch Bowl at Yoshimatsu — "The chipotle sauce was surprisingly subtle and the unusual choice of kiwi brought a bold lightness that complemented the buttery salmon. Yoshimatsu's poke lunch bowls are among the most unique in town."
What was the best thing you tasted in Tucson this month? Let us know in the comments.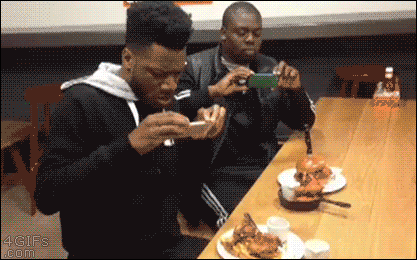 Want more? Here are the best things we tasted in April.