Bites ranged from rustic bread to linguine and clams.
Although we're always working hard to bring you the latest in food news, we also have meals outside of what you read about or see on Instagram.
With that in mind, here are our picks for the best things we tasted this month. For more information on each restaurant, click on the restaurant name.
Jennifer Teufel Schoenberger, Catalyst
Wood Fired Eggplant at Tito & Pep – "As John Martinez and crew roll out their Spring menu, they slayed it with their eggplant dish. The smoky flavor just floored me. It is almost, almost enough to get me over the fact that the roasted carrots are off the menu until next pomegranate season."
Bread at Fiamme Pizza – "Okay, I know it's all about their pizza, but a bite of their bread put me over the edge. My son and I dropped by after school last week and just picked up a loaf (great deal too). Shmeared with creamy butter (I'm a butter vs. olive oil kinda gal) and, well, perfection."
Lettuce Wraps at Plaza Eats – "I wasn't prepared for the lovely evening we had out on the tree shaded patio behind Hotel Congress. I tried everything on their food truck menu, but my favorite was the light, bright and crunchy vegan lettuce cups. Lots of great vegetarian selections, too, but this is just right for a warm Tucson evening accompanied by their live music."
Glouy Tod at Senae Thai Bistro – "Here's my sweetness for the month. Hello deep-fried battered bananas with vanilla ice cream. The hot crunch balanced with the creamy was gorgeous and, surprisingly, not too sweet. Followed by a two hour nap."
Melissa Stihl, Content Creator
Lobster Roll from Ermanos Craft Beer & Wine Bar – "This year for their anniversary, Ermanos did a lobster roll one-day-only special. The roll was perfect. It was filled with so much lobster meat (knuckle and claw), and the bolillo roll was toasted and buttery. The best part? It was so successful on the day of the anniversary, that the roll now has a place on the menu, so you can head to Ermanos to give it a try."
Cantaloupe Collins from AC Hotel Tucson Downtown – "This is the drink you want to sip poolside this summer. It's subtly sweet, a little salty, and oh so refreshing. It's dangerously easy to drink but in the best way. The Collins is made with vodka (from Independent Distillery, right next door), cantaloupe, sugar, lime, sea salt, and a Tajin rim. It's going to be my go-to this summer."
Ensalada de Berros from Penca – "Disclaimer: I am not a fan of watercress. I find it bitter and acidic and not what I am looking for in a salad green. But, I will make an exception for the perfectly balanced Ensalada de Berros at Penca. The combo of watercress, pickled oyster mushrooms, shaved fennel, chipotle pepitas, and creamy avocado just works for me. I would eat the chipotle pepitas by the handful, and find myself wanting to lick this bowl clean. Bonus? It's $5 at happy hour and the perfect thing to eat while sipping a rosé sangria."
Chicken Shawarma Sausage from Ten55 Brewing and Sausage House – "This one is totally biased. In addition to working at Tucson Foodie, I also am an apprentice at Forbes Meat Company where I spend most hours wrapping meat and making sausages. A few weeks ago, Ben tasked me with making a custom sausage for Ten55 Brewing's weekly sausage special. The result was a chicken shawarma sausage inspired by street food that I used to eat when I lived in NYC. Dreaming up this flavor combination, buying spices from Caravan Market, testing the spice blend, mixing and stuffing the sausages by hand, and finally sitting down to eat the finished product a few days later at Ten55… yeah, this was a special meal for me. Easily the best thing I ate this month. It also was the fastest selling sausage special at Ten55 and has been requested by two other restaurants in town, so keep an eye out for it."
Matt Sterner, Events Contributor
Pepperoni Pizza & Garlic Knots at Brooklyn Pizza Company – "It never lets me down. The warm and gooey cheese is always hot as it surrounds the perfectly placed pepperoni, and they'll even walk it over to Sky Bar when I'm guzzling down a beer. Also, you can't go wrong with getting a greasy bag of Garlic Knots before you leave."
Salmon Burger at HUB Restaurant & Ice Creamery –  "The spicy Louisiana remoulade really adds that extra flavor, and you know I couldn't leave without snacking on their Salted Caramel ice cream.
Salmon Salad at Ermanos Craft Beer & Wine Bar – "I usually only drink there. However, their Salmon Salad really took me on a journey of flavorful goodness alongside my La Cumbre Brewing Company Acclimated APA."
Jackie Tran, Lead Writer & Photographer
Cemita at El Antojo Poblano – "The sesame seed bread envelops a breaded fried beef cutlet, salty ham, stringy queso Oaxaca, cilantro-like papalo herb, caramelized onion, smoky chipotle peppers, cool avocado, and olive oil. If that sounds like a mouthful, it is. You'll have to open wide to bite into this tower of a sandwich. Don't mistake its size as a gimmick, however; the wide spectrum of textures and flavors are unlike anything else you'll find in the Sonoran Desert."
Yukon Whipped Potatoes at PY Steakhouse – "If you appreciate mashed potatoes, then you'll fall head-over-heels in love with these taters. The creamy Yukon Gold potatoes pack a punch of roasted garlic and enhanced creaminess with butter and sour cream. Whipped potatoes can be gluey when done wrong, but these ones had a proper light texture to contrast all the richness."
Linguine and Clams at BZ's Pizza and Italian Kitchen – "I always knew BZ's had a solid reputation on the east side, but this was my first time trying food aside from their pizza. Turns out I've been missing out. This rendition of a classic, simple Italian dish was light and well-balanced with just the right amount of white wine."
Italian Beef Sandwich with Everything at Luke's Italian Beef – "This sandwich doesn't photograph well. It also doesn't sound great if you call it a pre-soggy French Dip. But it's more than that. The greasy oregano-perfumed beef is lifted by green olives, red pepper, and tangy giardiniera."
East Ender at HUB Restaurant & Ice Creamery – "While Alex covered the spectrum well with both spirit-forward and approachable fun cocktails, I gravitated towards the spirit-forward creations. I initially found myself craving more of the Old Fashioned-inspired Workhorse with salted cacao bitters, but now I just want an East Ender, which is a negroni variant with Hudson White Whiskey, Granada-Vallet, Cappelletti, and amaretto."
What was the best thing you tasted in Tucson this month? Let us know in the comments.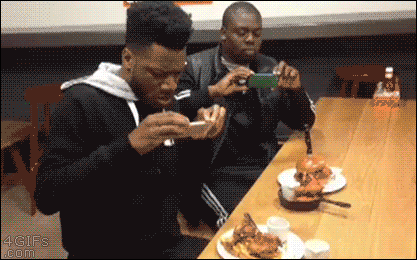 Want more? Here are the best things we tasted in March.