Foodie events for the week of Dec. 3 - Dec. 9.
While some have been baking gingerbread cookies, sipping festive cocktails, and have decorated their tree and house already, others are celebrating Hanukkah this week.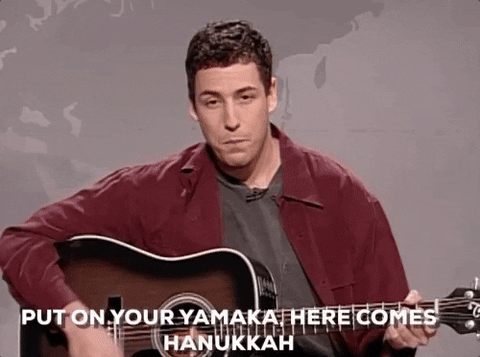 From support pizza fundraisers to international tastings and getting your drink on, the season is wrapped up in festive events.
The following events will take place this week. For more information regarding event details, click the links below each event.
Tuesday, Dec. 4
"Holiday Hunger Fight" returns to Barro's Pizza in Marana
"This holiday season, everyone deserves a slice.
It's the pizza joint's largest fundraiser of the year for the St. Mary's Food Bank Alliance.
Throughout the day, 100% of the proceeds will help fill bellies all across Arizona, and in total, they're hoping to offer more than a million meals this year." More…
Wednesday, Dec. 5
Drink Up in Celebration of Repeal Day at Downtown Tucson's AC Hotel
"The evening will be filled with Prohibition-era cocktails and live jazz music from Gabriel Naim Amor and musician Sean Rogers.
If you're feeling festive and dress like you're living in the 1930's, you'll get half off your first drink." More…
Thursday, Dec. 6
Winter Wonderland at Series 19
Music, muchies, and specialty drinks will be featured once a week for the month of December.
"Beginning on Thursday, December 6, Santa Claus, his elves, and anyone else craving a drink that tastes like a winter wonderland in a glass can purchase the exclusive cocktails.
Each cocktail — like the Sonoran Hot Chocolate or their spin on the classic Hot Toddie — is Santa approved." More…
Explore International Flavors at the Cities of Gastronomy Tasting Event
"Each chef at the event will be serving dishes and a cocktail from a their choice of sister city.
Janos Wilder of DOWNTOWN Kitchen + Cocktails will be representing Florianopolis, Brazil, Devon Sanner from The Carriage House is serving up food from Macao, China, and Travis Peters from The Parish will present offerings from Phuket, Thailand." More…
Friday, Dec. 7
Grab a Bite at the Fourth Avenue Winter Street Fair 2018
The three day fair is back and is teeming with vendors, music, and all kinds of eats. Bundle up for a day of entertainment.
"All year round, the historic Fourth Avenue flourishes with local art, great food, tasty drinks, and interesting characters. But twice a year it's flooded with even more.
Each year, more than 500,000 shoppers fill the avenue, and if they're not shopping for gifts they're shopping for something delicious to calm their appetite." More…
Saturday, Dec. 8
Turning Up the Heat at the Inaugural Rib Cook-Off at Button Brew House
"Local competitors light up the grills for best ribs in town.
Being that it's a first of its kind for the brewery, a big majority of the parking lot — if not all — is being taken over for the competition.
There will be a good deal of samples to go around but if you're looking for more, the food truck Smokin' BBQ will be on site as well." More…
Happening all season


The Gift That Keeps on Giving: "Miracle at Elvira's" Christmas Bar Returns

"Traveling bar returns to Tucson with new Christmas-inspired cocktails.

The launch happened the day after Thanksgiving. Miracle isn't wasting any time setting up its pop-up — now expanding to more than 80 locations around the world.

The pop-up is offering 10 cocktails and two shots (some nice and others naughty), and they'll be poured in themed mugs and glassware to match the wintry, traditional Christmas concept at the bar." More…
Happy holidays, folks. We have a stack of latkes to get through. Cheers!