In reverse chronological order, here are the picks for February 2019.
Want your Instagram food photo featured on Tucson Foodie? We're excited about what you have to share!
Next time you capture a beautiful bite dining out and post it on Instagram, use the hashtag #tucsonfoodie. We'll pick 10 photos at the end of each month to feature in an article.
In reverse chronological order, here are the picks for February 2019.
Fresh OJ, avocado, a golden egg, and casually laid sunglasses give this the classic brunch vibe.
While we love pickled jalapeños with movie theater nachos, these fresh jalapeños give the nachos a vibrant pop with the crumbly cheese.
These shades of turquoise and purple complement each other beautifully.
The soft lighting highlights the medium-rare lamb beautifully. And props for not making your companion wait for you to eat.
I just want to dive into that skillet face-first. A little butter spread on that English muffin would be nice, too.
We know how photogenic the bonbons are at Monsoon Chocolate, so good job finding beauty with another item. These sea salt flakes are stunning.
What a smorgasbord of beautiful sushi.
Good job capturing how bountiful the feasts are at Chef Alisah's.
That cheese pull though. Good job you two.
The leading lines from the spoon create a fun vibe with this spread of dishes.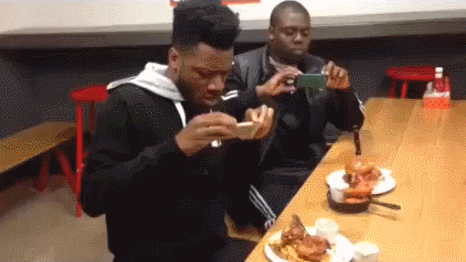 Want to be featured? Use the hashtag #tucsonfoodie when you post a beautiful bite on Instagram.